PROVIDING EMERGENCY FOOD AND SHELTER TO THE HOMELESS AND LONELY AT CHRISTMAS.
Volunteers/Training Information Evening is Monday 20th November 7pm @ Queens Road Baptist Church
Volunteer Application Form available from October 1st 2023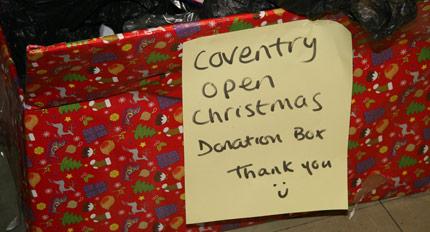 Coventry Open Christmas is a voluntary organisation managed by the "Grub & Gab club". We provide shelter and food to the homeless and lonely over the Christmas holiday.

We have been helping the homeless and lonely and we hope to make it really special.

We are looking for volunteers and donations, if you would like to help please get in touch.
We will be open for 24 hours a day in 2022 across Christmas week. As you may appreciate, this requires extra resources to make this happen; primarily we need additional volunteers but also donations of cash, and food. If you, or anyone you know, would like to help us to make a difference this Christmas then please contact us.